Bob the Dog ~ Our Inspiration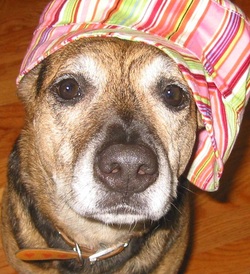 A Pink Hat? Really? My Name is Bob...B.O.B.!
Our Puppy Pastry Recipes were initially developed for Bob, the Dog. Bob was a rescue dog and when we met him he had malnutrition and no energy. His coat was dry, dull and flaky and he was always cold. But even though he was skinny & suffering, Bob the dog would not eat.

Thus began our saga with puppy treats. Every weekend I would pull various ingredients from my cupboards and try a new treat. My family said the house never smelled so good! When I finally found a treat that Bob loved, I knew that other dogs would also love it. Bob's Favorite was always our Original Peanut Butter Pastry.

With love, fresh air and treats Bob recovered his health and became a beautiful and special member of our family.

We are thrilled to be able to share Bob's delightful treats with you and your canine buddies.


---
Addressing Allergies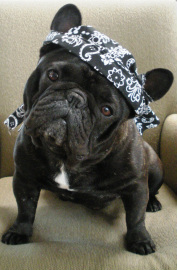 Why am I wearing this silly bandana?
Today, Jacques is a member of our family. Jacques is funny little French Bulldog. He snorts, spits, sneezes and farts.

And he suffers from allergies. He is allergic to wheat, corn and soy. These allergies mean that out little fellow cannot eat most commercially available treats. For Jacques we created a special recipe. Jaquie Doodles avoid all the foods he is allergic to. All natural, wheat, soy and corn free, low gluten…..yet delicious! They were so popular, we continued testing and introducing new wheat-free, corn-free & soy-free recipes. NOW, most of our Puppy Pastries have no wheat, corn or soy. And of course, no sugar, salt, preservatives - NONE of the bad stuff, just the things dogs LOVE and that are good for them. And boy, does Jacques love them! So do other dogs! For a special treat, try a Jaquie Doodle.




---
Nature Makes Sense...Always Has, Always Will.
Most of our wheat free treats have rye flour and spelt, an ancient grain. For dogs on a gluten free diet, we also make treats with rice flour & oats. The gluten free treats are a little more crumbly (think crispy not hard) than the original or rye treats, so we usually prefer to sell them in our store rather than shipping them – that way you receive a lovely box filled with bones rather than crumbs. We have lots of flavors of treats and each one is crafted to with all natural ingredients specially selected to please your dog.
Some of our flavors include peanut butter, cheddar cheese, parsley(terrific for bad breath), cranberry (filled with antioxidants), bacon (oh sweet, sweet pork) and carob.
Carob looks and smells like chocolate,but it has no relation to chocolate. Cultivated for more than 4000 years, Carob is also known as St John's bread and Locust Bean. John the Baptist is said to have lived on Carob when in the desert. High in protein, naturally sweet, Carob also is rich in minerals and vitamins including calcium, phosphorous, iron, potassium, silicon, magnesium, vitamins B1 and B2, niacin and even some vitamin A. Low-fat, low sodium, high fiber, calcium rich and tasty too! That's a great combination!For our Peanut Butter treats, we use All Natural Peanut Butter. No salt. No oil. No additives. Peanut Butter is a great source of vitamin E, B3, Magnesium, dietary fiber and protein. It also contributes to a glossy, healthy coat. Elvis loved peanut butter and so does every dog we know!
Most of our dog treats include Molasses. Molasses is high in potassium and contains calcium, magnesium and iron. We use only UnSulphured molasses, then bake our puppy pastries as slow as molasses in June!
If you have a question, just check out our ingredients, or give us a call - we'll be happy to answer all of your questions!